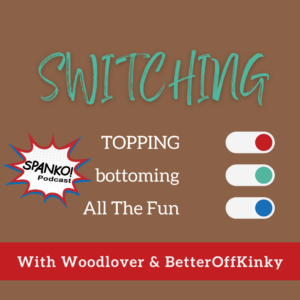 Episode Resources
Switching in Spanking
Our friends, BetterOffKinky and WoodLover, who both identify as Switches within the scene join us to discuss Switching. You may remember WoodLover from our Long Distance Relationships episode, and BetterOffKinky from our Topping and Miss Chris episodes. They both discuss their history in the scene and how they each discovered why Switch was the right role for them.
Why pick just one side of spanking play when you can have both? What goes into defining yourself as a switch? Is it the same with every relationship or dynamic? How hard is it to switch in the same scene? Are there different challenges being a female switch than being a male switch? They answer these questions and many more!
If you've ever wanted to learn more about being a Switch, we couldn't ask for better friends to help you out with this topic!